It is well known that intellectual stimulation is essential in order to maintain good mental health as well as overall health. Jewish Life Network reaches out to senior citizens across the city by providing interesting, quality classes. Senior citizens living in independent or assisted living facilities enjoy the lectures and are able to expand their connection to Judaism by exploring our Jewish laws, philosophy, culture, and ethics. Learning is an effective way to continue to grow as a person, and to feel young and vibrant.
Weekly class, Wednesday 1:00 p.m. at The Legacy at Willow Bend senior living facility
Monthly class for seniors at the JCC of Dallas, last Thursday of the month, 11:00 a.m.
Bi-Monthly gathering, every other Tuesday, at Towne North Senior Living

Couples' classes located in private homes occur on a monthly basis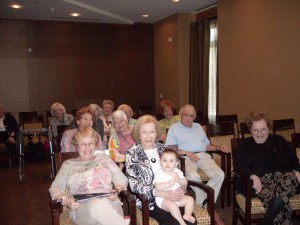 "Another Wednesday is a day away and I am so looking forward to spending a much too pleasant hour with Rabbi Peretz Shapiro.  His amazing knowledge and warm and welcoming ways combined with a delightful sense of humor have made this the highlight of my week – a learning experience I shall never forget."
Mrs. Carol Greenberg
"As an adult I had the pleasure of meeting Rabbi Shapiro at a social function.  I immediately found him to be an intelligent, knowledgeable gentleman who also possessed remarkable social skills.  This combination of character traits led me to develop a desire and interest in learning more about my religion, my history, and myself.  Rabbi Shapiro has been invaluable as a means to my own personal growth that I would not have otherwise experienced."
Douglas N. Black, O.D. P.A.